Map of Kiplin and F3 Uranium Property Boundary
VANCOUVER, British Columbia, June 05, 2023 (GLOBE NEWSWIRE) — Kiplin Metals Inc. (TSX-V: KIP) (the "Company" or "Kiplin") has observed a significant increase in activity surrounding its Cluff Lake Road (CLR) uranium project. Located in Saskatchewan, the project sits in a highly prospective area with neighbouring companies Orano Canada, Cameco Corp., Stallion Discovery Corp., and Canalaska Uranium Ltd.
One noteworthy development is the proximity of the CLR property to F3 Uranium Corp.'s (formerly Fission 3.0) Paterson Lake North (PLN) project. In November 2022, F3 discovered the JR high-grade uranium zone, and subsequent reports (refer to F3 press release dated Feb. 6, 2023) detailed intersections in drill hole PLN22-038, averaging 4.20 percent triuranium octoxide over 11.0 meters, including a high-grade interval of 9.8 percent U3O8 over 4.5 meters. This discovery implies the presence of a basement-hosted uranium deposit in the Athabasca region, comparable to Fission Uranium Corp.'s Triple R uranium deposit.
Kiplin believes that the combination of multiple EM (electromagnetic) conductors, magnetic lineaments, radon gas, and radioactivity anomalies on the CLR property makes it a highly prospective location for the discovery of a basement-hosted uranium deposit. The Company is enthusiastic about the project's potential and opportunities for future exploration and development.
"We are encouraged by the increased activity and the presence of notable uranium projects in close proximity to our Cluff Lake Road Uranium project," said Dr. Peter Born, Director of Kiplin. "The recent discoveries in the region further underline the prospectivity of the Athabasca Basin, and we believe that our CLR project holds significant potential for uncovering valuable uranium deposits."
Kiplin remains committed to growing its exploration endeavours and leveraging the geological potential of the CLR project. The Company's management and technical team actively evaluate the available data and formulate strategic plans for future exploration activities. Kiplin highlights that discoveries and observations on neighbouring properties do not necessarily indicate the presence of comparable mineralization or geological characteristics on the Company's properties.
Dr. Peter Born, PGeo, is the designated qualified person as defined by National Instrument 43-101 and is responsible for, and has approved, the technical information contained in this release.
About Kiplin Metals Inc.
Kiplin Metals Inc. is a mineral exploration company. We create value for our shareholders by identifying and developing highly prospective mineral exploration opportunities. Our strategy is to advance our projects from discovery all the way to production. This vertically integrated strategy allows Kiplin to achieve exceptional shareholder value through the entire life-cycle of the mining process.
Cluff Lake Road Uranium Project. Kiplin Metals has the right to earn a one-hundred percent interest in the Cluff Lake Road Uranium Project (the "CLR Project"). The CLR Project covers ~531 ha in the southwestern Athabasca Basin in northern Saskatchewan, where several new discoveries have been made, including the Arrow and Triple R Uranium deposits. The CLR Project is 5 km east of the Cluff Lake Road (Hwy 955), which leads to the historic Cluff Lake Mine, which historically produced approximately 62,000,000 lbs of yellowcake uranium.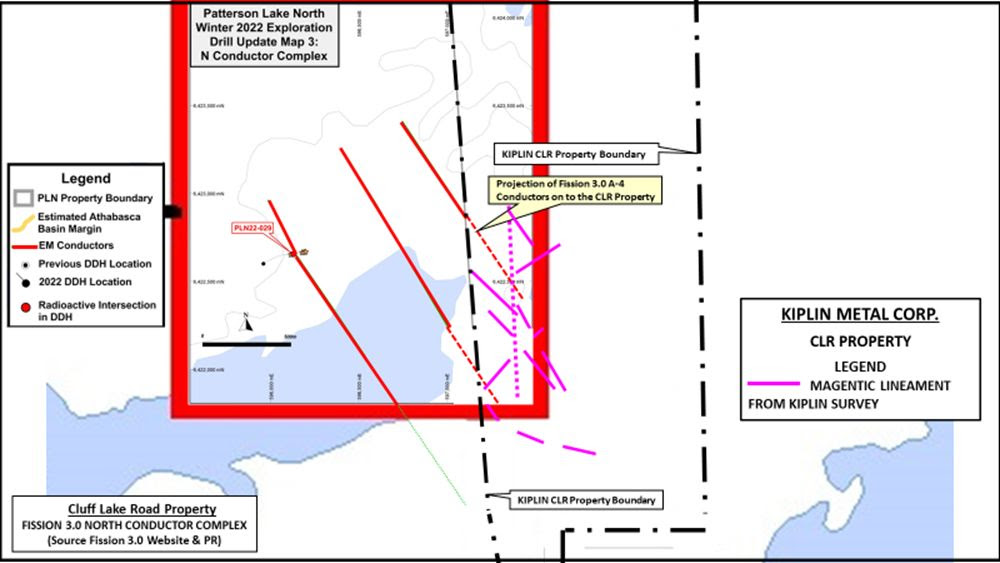 For further information, contact the Company at info@kiplinmetals.com or 604-622-1199 or visit the Company's website at www.kiplinmetals.com.
On behalf of the Board,
"Peter Born"
Director
Neither the TSX Venture Exchange nor its Regulation Services Provider (as that term is defined in policies of the TSX Venture Exchange) accepts responsibility for the adequacy or accuracy of this release.
This news release may include forward-looking statements that are subject to risks and uncertainties. All statements within, other than statements of historical fact, are to be considered forward looking. Although the Company believes the expectations expressed in such forward-looking statements are based on reasonable assumptions, such statements are not guarantees of future performance and actual results or developments may differ materially from those in forward-looking statements. There can be no assurances that such statements will prove accurate and, therefore, readers are advised to rely on their own evaluation of such uncertainties. We do not assume any obligation to update any forward-looking statements except as required under the applicable laws.
Contact Data
CONTACT:
Alex Zertuche
For E.S.T Office Hours, Call 1 416-477-0587
An infographic accompanying this announcement is available at:
https://www.globenewswire.com/NewsRoom/AttachmentNg/aabdac10-161c-4707-baed-d2d982af0c5e
GlobeNewswire Distribution ID 8851651