Map of Arbor Metal Corp.'s Jarnet Lithium Claims
VANCOUVER, British Columbia, April 25, 2023 (GLOBE NEWSWIRE) — Arbor Metals Corp. ("Arbor" or the "Company") (TSXV: ABR, FWB: 432) welcomes the news that the Sayona Lithium Mine, located near La Corne in the Abitibi region of Quebec, has started operations as a large-scale lithium mine in North America. Sayona Quebec, a joint venture between Australia's Sayona Mining Ltd. and North Carolina's Piedmont Lithium Inc., reopened the North American lithium mine in late March. High-profile end-users such as Tesla Inc. and South Korea's LG Chem Ltd. are anticipated to purchase lithium from the Sayona operations, representing a significant achievement for Quebec and Canada.
Arbor welcomed the positive announcement by Federal and Provincial leaders on April 20th, 2023, where officials welcomed Volkswagen's plan to build a large-scale new EV battery plant in St. Thomas, Ontario. Following the news of substantial investment by both Volkswagen and the Canadian government, the Company plans to expedite its exploration plans for its Jarnet lithium project.
"North America plays a key role in our global battery strategy. The region will become PowerCo's second pillar beside Europe, with battery cells made in North America for North America. Gigafactory St. Thomas opens the door to a key market for e-mobility and battery cell production. We aim to make PowerCo a global player in the battery business and to pave the way for clean, sustainable mobility. Gigafactory St. Thomas is an important milestone in our roadmap," remarked Thomas Schmall, Volkswagen Group Board Member for Technology.
https://news.ontario.ca/en/release/1002955/volkswagens-new-electric-vehicle-battery-plant-will-create-thousands-of-new-jobs
On April 20th, 2023, the lithium industry was also shaken by the announcement that Chile, the world's second-largest producer of lithium from brine deposits, intends to nationalize its lithium industry to bolster its economy and safeguard its environment. Arbor expects this move by Chile and Mexico to nationalize their lithium industry will hasten a shift in future investments in lithium projects to other countries recognized as "safe havens" with large lithium resource potential, such as Canada (Quebec and Ontario). Quebec ranks second in Canada and sixth globally in the Fraser Institute's 2021 top jurisdictions for investment based on the Investment Attractiveness Index.
Arbor believes that the exploration and development of lithium projects in northern Quebec are well-suited to benefit from these recent announcements and eagerly anticipates implementing a strong exploration program for its Jarnet lithium project this summer. Encompassing roughly 3,759 hectares, the Company's Jarnet lithium project is comprised of 70 map-designated claims. The Jarnet South block is located less than two kilometres northwest of Patriot Battery Metals Inc.'s ("PMET") CV-5 pegmatite target, where an intensive diamond drill program is currently underway and has led to several noteworthy discoveries.
Note: Company management cautions the discoveries and observations on properties in proximity to the Company's properties are not necessarily indicative of the presence of similar mineralization or geology on the Company's properties.
Dr. Peter Born, P.Geo., is the designated qualified person as defined by National Instrument 43-101 and is responsible for and has approved the technical information in this release.
Arbor Metals Corp. is a mining exploration company specializing in developing high-value, geographically significant mineral projects worldwide. As an industry leader, it is paving the way for advanced mineral exploration as it oversees world-class mining projects. Arbor believes quality projects, proven strategies, and a professional team will deliver superior results. The company holds three exceptional mineral projects.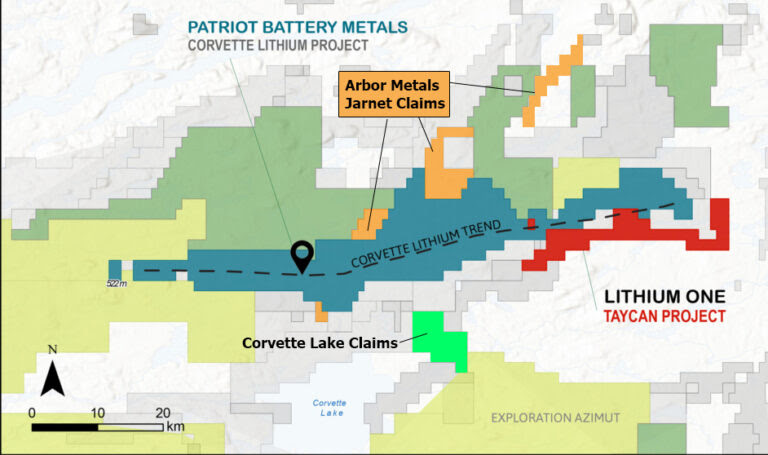 The Jarnet lithium project, located in the James Bay region of Quebec, comprises 47 map-designated claims, covering an area of approximately 3,759 hectares. The Jarnet project is contiguous to the Corvette-FCI property, where diamond drilling has confirmed significant lithium mineralization, and represents one of the highest-profile lithium exploration projects in the sector.
For further information, contact Mark Ferguson, Chief Executive Officer, at info@arbormetals.com, or visit the Company's website at www.arbormetalscorp.com.
On behalf of the Board,
Arbor Metals Corp.
Mark Ferguson, Chief Executive Officer
Neither the TSX Venture Exchange nor its Regulation Services Provider (as that term is defined in policies of the TSX Venture Exchange) accepts responsibility for the adequacy or accuracy of this release.
This news release may contain certain "Forward-Looking Statements" within the meaning of the United States Private Securities Litigation Reform Act of 1995 and applicable Canadian securities laws. When or if used in this news release, the words "anticipate", "believe", "estimate", "expect", "target, "plan", "forecast", "may", "schedule" and similar words or expressions identify forward-looking statements or information. These forward-looking statements or information may relate to the development of the Jarnet Lithium Project, the assessment of samples from that Project, and other factors or information. Such statements represent the Company's current views with respect to future events and are necessarily based upon a number of assumptions and estimates that, while considered reasonable by the Company, are inherently subject to significant business, economic, competitive, political and social risks, contingencies and uncertainties. Many factors, both known and unknown, could cause results, performance, or achievements to be materially different from the results, performance or achievements that are or may be expressed or implied by such forward-looking statements. The Company does not intend, and does not assume any obligation, to update these forward-looking statements or information to reflect changes in assumptions or changes in circumstances or any other events affecting such statements and information other than as required by applicable laws, rules and regulations.
Contact Data
CONTACT:
Alex Zertuche
For E.S.T Office Hours, Call 1 416-477-0587
A photo accompanying this announcement is available at https://www.globenewswire.com/NewsRoom/AttachmentNg/3618b042-01cc-4fdc-9dc6-19987e9bc55d
GlobeNewswire Distribution ID 8824385